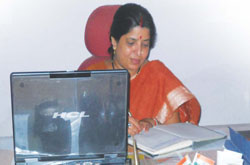 Among the greatest of all services that can be rendered by man to Almighty God, is the education and training of children. At our school Mahatma Gandhi Shikshan Sansthan, imparting of education is taken as a service to God. The school has been set up with the aim of developing the students physically, mentally and spiritually. It intends to make children self-confident and self-depedent. It endeavours to develop every child's character, personality and culture and inculcate in them as much knowledge as the child can assimilate, not merely memorize.
"Education is what survives when what has been learned has been forgotten."
– B.F. Skinner
The purpose of education should be to make a man capable of earning his livelihood reasonably well to enjoy a happy and secured life, while at the same time, making effective and positive contributions to the Society and the Nation. We take sincere efforts for the fulfillment of this purpose. Schools are the foremost and preferred places where a kid's performance and prospects of educational success are shaped. The primary years of schooling are very significant because it is in these years that the foundation of a student's educational life is laid. The school realises the importance of these years and takes care to make the best use of it.
It can be said that mothers become great mothers only when their experiences with the kids develop their expertise in the field of
motherhood. Teachers are the succeeding mothers for their students. A real teacher develops through many years of preparation and experiments in his related field. Like mothers, teachers shower their care and affection on the students and lead and instruct them to become achievers in life.
"Technology is just a tool. In terms of getting the kids working together and motivating them, the teacher is the most important".
– Bill Gates .
We are proud to say that we have a team of real teachers who are concerned for the students and benefit them with their experience, knowledge and guidance. So, join hand with us to set your ward / wards on the path of success and co-operate in the noble cause of National building.
With warm regards,
Dr. (Mrs.) Prabha Mallik